Kurama (鞍馬) is a tengu (crow) yokai posing as a "bad boy" human pop star. His act centers around the idea of his being a fallen angel, which he emphasizes with punk clothing, goth makeup and black wings his fans naturally assume to be props.
We first meet Kurama after he enrolls at Nanami's high school, to the ecstatic joy of the entire student population. He quickly discovers Nanami's new godhood, and attempts to take her power for himself by force. One thing he neglected to factor into his plans, however, was a certain very possessive fox shinshi, and in the end it is Nanami who must save Kurama from becoming dinner.
Even after this humiliating defeat, the lonely tengu finds himself drawn to Nanami's sweet, dauntless spirit and the bevy of supernatural creatures that surround her. Though the animosity between Tomoe and Kurama remains strong, the tengu has come to Nanami's aid on several occasions and often visits the shrine just to hang out.
History
In his village, he is known as Shinjirou and was raised by an older tengu called Suirou whom he thinks of as his brother and has high respect for. Kurama, in fact, is no ordinary tengu but is the blood-related son of one of the tengu chiefs, specifically the Third Chief Soujoubou's only son. He was treated harshly during his childhood by Jirou which was why he had left Kurama Mountain 16 years ago and live in the human world. He also shown to have more normal human's attitude than the others (Tomoe, Mizuki, etc.).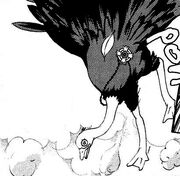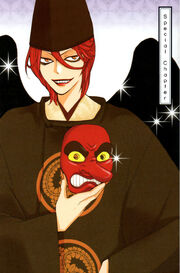 Personality
Kurama is very charismatic and due to his popularity, very arrogant and selfish as well, seeing that he had attempted to catch and eat Nanami's heart to become the Land God.
A few chapters later, he had become much more friendly to Nanami, especially in school. He still has thoughts on becoming the Land god by befriending Nanami, but it was never as serious as it had been when he first met her. However, after his encounters in Kurama Mountain, the thoughts of becoming Land god disappeared altogether. Although he still remains very arrogant around his fans, he becomes a good and reliable friend of Nanami's.
Due to his occupation as an idol, he is very familiar in socializing with humans, especially girls. Despite his grudges against Tomoe, he reminded him that Nanami was human and warned him of the possibility of her falling in love with him. But being so used to girls loving him to the point he finds it unbelivable when girls ignore him, it had become used to breaking their hearts, making it hard for Ami, a shy friend of Nanami, to confess her love for him. However, in spite of often being surrounded and swooned over by other people, deep inside he is a lonely person, constantly visiting Nanami and seeking company other than his fans.
Quotes
"A man's life is too short."
"Hmph, have you fallen in love with the sound of my voice, Nanami?"
"Who was able to touch me this, waiting for you, Ami."
"Rain nevidemy people's eyes, my pen, you can usually what your view is unavailable having a part ekaya, Ami."
Trivia
His name is stylized as KURAMA.
His name is the same as the mountain he's from.
Kurama sung his own version of the ending song, 'Kamisama Onegai'.